Indesso Offers Innovative Product Concepts at FiAsia 2022
Posted on September, 6th 2022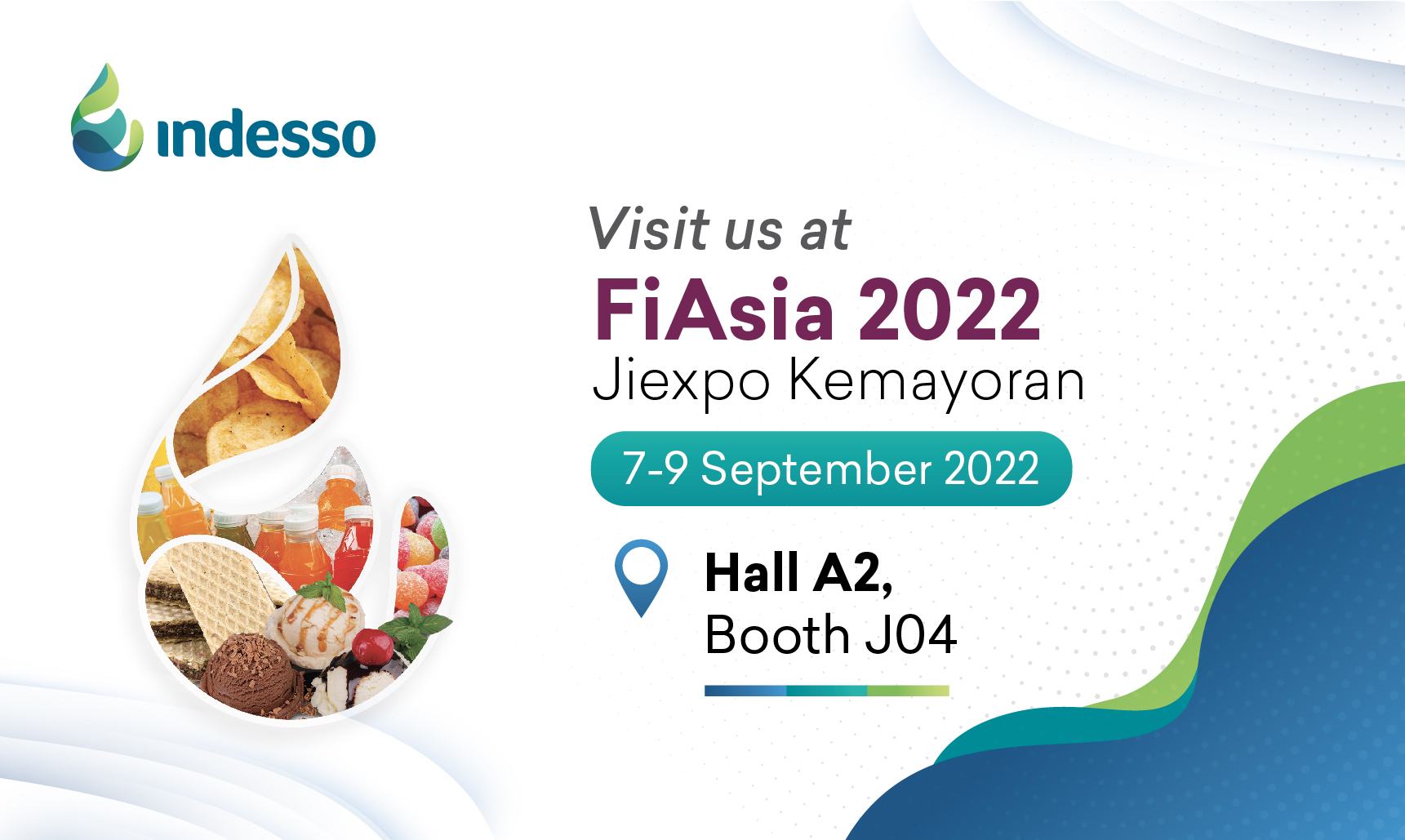 Jakarta, 6 September 2022—Indesso will join FiAsia 2022, which will take place at JiExpo Jakarta from 7 to 9 September 2022.
"We are excited to be back at FiAsia this year and ready to support our clients in anticipating market changes. We have witnessed how the pandemic has significantly impacted consumer behavior for the past three years. Today, consumers have become more aware of their health and realize that wellness is not necessarily about physical but also mental well-being. Therefore, we are preparing innovative and interesting product application concepts that highlight the idea of holistic wellness using our extensive product portfolios," said Jessie Gunawan, Marketing GM of Indesso Food Ingredients.
Indesso has long been known as a prominent manufacturer of food and beverage ingredients with a strong background in research and innovation. On top of that, Indesso is also a reputable distributor of several world-leading specialty ingredients in Indonesia, namely Firmenich, Nexira, PureCircle, Oterra, Ballantyne, Martin Bauer, Dohler, Biospringer, Thai Nikken, and Palsgaard. It makes Indesso a solution provider with complete product portfolios for the food and beverage industry. The wide product range covers different needs, from essential ingredients that play a significant factor in product characteristics, such as flavor and color, to functional ingredients that offer additional health benefits to our body beyond taste and aroma, such as extracts. Besides that, Indesso offers ingredients that can add value to final products, such as texture improvers, stabilizers, or alternative ingredients for cost reduction. Discover more about Indesso at FiAsia 2022 at Hall A, booth number J-04.
About Indesso
Established in 1968, Indesso is one of Indonesia's key manufacturers of food, flavor, and fragrance ingredients. Through strict quality assurance, we ensure that all customers receive high quality products, which comply with international standards and regulations. Indesso is devoted to create innovative solutions with sustainable natural-based ingredients for life.
For further information contact:
Arianto Mulyadi
Corporate Communication & Sustainability Director